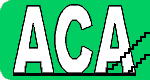 ACA IN THE OTTAWA/GATINEAU REGION
The origins of ACA in the Ottawa/Gatineau Region date from January 1986. Wayne C. who had been travelling out West attended several ACA meetings in the Vancouver area. He brought the Vancouver material to Ottawa and asked "Serenity Renewal for Families" for space to hold the first meetings. Sister Louise of Serenity Renewal was also very instrumental in getting our fellowship off the ground, her knowledge and involvement in adult child issues were of great benefit to our fellowship.
From the original closed group of ten members it blossomed six months later, to between eighty and one hundred. It was now an open group and people had found out by word of mouth. After one year the Queensway Carleton Hospital Group was formed and other groups followed until membership reached its peak around the mid-nineties with 10 groups. The Inner Peace Group held its first meeting on October 1, 1991.
Currently, there is one English group and no French group in the Ottawa/Gatineau Region. To view an updated listing of all meetings Click Here.
---
Literature Index <—– back to —– Return to Top –— next to –—> Humour

This information is current and unlikely to change soon.
<!This page updated June 2, 2010.>