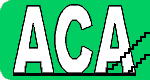 "Inner Peace" Noticeboard
Notices and News for ACA Members in the Ottawa Region:
---
BULLETIN!!!: MEETINGS HAVE BEEN EXTENDED WELL INTO 2020.

The Inner Peace Group has now booked meetings until at least the end of June 2020.
See the meetings page for more recent information.

WARNING!!!: INCORRECT INFO ABOUT OUR MEETINGS

Despite our (failed) efforts to contact a website's webmaster on the "cyberus.ca" platform to correct the Ottawa Region meeting's times and locations, they remain incorrect. There are no meetings at St. Paul University or any other location other than at Brewer Park and very occasionally at the Ottawa South or Glebe Community Centres. See the meetings page on this site for the most up-to-date information.
NEW SOURCE FOR ACA BOOKS AND LITERATURE AVAILABLE

All ACA World Service Organization buyable books and literature are now available through AMAZON.COM (USA). Just enter "ACA WSO books" into the search box. A shipping charge may apply for some orders of small amounts or outside the USA.
OUR FIRST WEB COUNTER RESULTS

It has been many years since our host "National Capital Freenet" started receiving web counter formation for it's members. Go to our Website Map page for a brief summary. Note: Please be assured that the counter software was designed to maintain an individual's anonymity.
NO OTTAWA INTERGROUP BUSINESS MEETINGS PLANNED


| | |
| --- | --- |
| Status: | Intergroup has been disbanded indefinitely. |
| Reason: | Only one group will exist in the near future. |
| Date: | None presently planned. |
| Time: | Unavailable |
| Location:    | Unavailable |
| Contacts: | Click here for Webpage. |
| Possible Agenda Topics:    | Upcoming events, the budgets, status of search for new meeting locations, voice message service, etc. |

Contact: the Site Webmaster for further details or corrections.


---
Literature Index <—– back to —– Return to Top –— next to –—> Humour

This page updated September 3, 2019.